Technical Support :: 2000
At the ARTSPEAK Gallery, Vancouver
Video length: 23 minutes
Six pieces from a series of short video 'portraits'.
This video documentation represents the exhibition format for each work, normally projected on two adjacent walls.
There follows images from the second room of Technical Support:
Doll Assemblages – Twins, Bubbleface and Camera Djab.
Wall 'Drawings' – Sign of Simbi and Sign of the Crossroads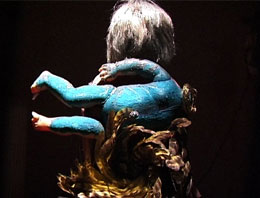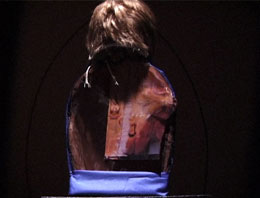 TECHNICAL SUPPORT PRESS RELEASE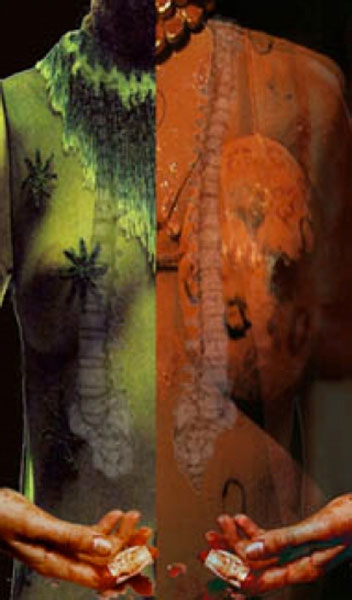 "What qualities in humans do you most value?"
"Do you ever feel like you are mutating and if so how?"
As part of 'Zero Degree Monstrosities: A Theme Park of Art and Technology', produced in collaboration with digital eARTh, Artspeak is pleased to present work by London-based artist Ranu Mukherjee and her collective 0rphan Drift. Using a web-based questionnaire, the artists gathered responses to questions concerning 'fantasy', 'reality' and notions of 'mutation'. These responses were used to 'build' a new work addressing the paradox of presence in a biotech world.
'Technical Support' is an installation work using video projections and objects to create an immersive environment in the gallery space. The projections layer voice and rhythmic imagery: the objects or 'frozen animations' are influenced by Haitian Vodou Arts. Within this newly defined space, Mukherjee and 0rphan Drift investigate the relationship between digital and ritual practice and the nexus of biology and technology. 'Technical Support' uses tactile surfaces, ruptures of time and illusions of depth to explore the the possibility of inter-related subjectivities that emerge and dissolve simultaneously.
'Zero Degree Monstrosities: A Theme Park of Art and Technology' is a joint venture with Digital eARTh, and includes exhibitions and events at multiple venues across the city. Looking to the historical precendents of the theme park such as medieval carnivals and 19c amusment parks, this series of events and exhibitions explores our fear and fascination with hybrids, new models and dangerous inventions – uncontrolled 'newness' and misplaced methodologies. For more information go to http://www.digitalearth.org/.