DoubleWalker :: 2003
A Five Channel Video/Audio Work by 0rphan Drift
Pitt Gallery, Vancouver
May 31-July 5
Video length: 33 minutes
0rphan Drift, an artists' collective based in San Francisco, London, Oslo and CapeTown, are in Vancouver again with a new installation at the Pitt Gallery. DoubleWalker, a sound and visual environment, presents a matrix of remade scenes from well known films, altered in different ways by each member of the collective to extract new viewpoints, creeping up like a cinematic déjà vu. The remakes are spliced together with 'original' scenes from the artists' personal experience and choreographed to one sound track.
Doublewalker is an investigation of the trickster in the language of cinema, which casts the artist as a ghost lingering inside filmic space and suggests the potential for cinema to create a sense of deja-vu. It is composed out of remade scenes from well known films, along with scenes remade or documented from experienced events. The first scene is a remake of the Magritte painting 'Invention de la Vie' along with four images of a London high rise imploding, opening the piece with the suggestion of collapse or catastrophe. Doublewalker does not follow a linear narrative, but instead is bound by this sense of collapse, most often portrayed through suggestions of the aftermath rather than the catastrophic event itself.
The trickster is a figure of traditional mythologies. 0rphan Drift engages its dynamic potential to channel twists of fictional incarnation into the everyday. Trickster is the chameleon of communication and guide to spaces between known realities. It is the transforming power of the imagination that pokes, plays with and eventually shatters what seems to be, until it becomes simply what is. A form shaping both ends and means. An imaginer of life.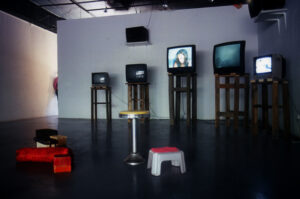 DoubleWalker Installation :: Click an image to expand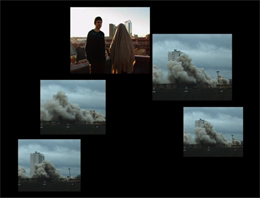 Stills